Twenty-one heads of state and more than 1,200 CEOs of global corporations will descend on San Francisco, CA for the Asia Pacific Economic Cooperation (APEC) Leaders Week and the related APEC CEO Summit beginning on Nov. 11. APEC is an intergovernmental forum of 21 "member economies" that meet annually for trade talks to advance "free trade" policies within the Asia Pacific region. APEC CEO summit headliners and sponsors include super-polluters Chevron and Exxon, major financiers of the fossil fuel industry Bank of America and Citi, and labor exploiters Amazon, Wal-Mart, and Uber, among others.
This year, a major focus of APEC will be the Indo-Pacific Economic Framework (IPEF), an economic initiative spearheaded by the Biden administration that would govern 40% of the global economy and become the dominant template for new trade deals, much as the North American Free Trade Agreement (NAFTA) did in the 1990s. The US sees APEC and IPEF as opportunities to advance US control in the region. In particular, Biden's push to establish IPEF is part of the US' economic pivot to Asia and an attempt to contain and attack its global rivals like China.
However, labor unions, indigenous peoples, land and water defenders, small farmers, youth, women's, and other grassroots organizations from around the world contend that APEC's backroom deals put corporate profits over people's needs. They have learned from the damage done by NAFTA, from declining wages and forced migration to displacement of farmers and loss of biological diversity.
Activists assert that the policies advanced by APEC exploit workers, intensify resource extraction that drives ecological erosion and climate change, and weaken the sovereignty and self-determination of local communities in order to concentrate wealth and power in the hands of multinational corporations. IPEF's detractors say this new framework in particular would offshore more jobs, roll back critical labor and environmental regulations, make more of our personal data available for surveillance and profit, and undermine democracy.
For this reason, a multi-sector NO 2 APEC Coalition has spent the last many months preparing to try to disrupt APEC. Organizers are planning a Peoples' Counter Summit on Nov. 11, a mass mobilization on Nov. 12 and a day of mass non-violent direct action at the CEO Summit on Nov. 15. The coalition has held teach-ins, taught webinars, canvassed their neighborhoods, hosted art builds, offered training on civil disobedience, and raised funds to support attendees from frontline communities..
To better understand the opposition to APEC and the call for mass direct action to stop it, I spoke with three San Francisco Bay Area activists whose experiences in human rights, labor, and climate led them to be involved.
Brandon Lee, human rights activist
and survivor of an assassination attempt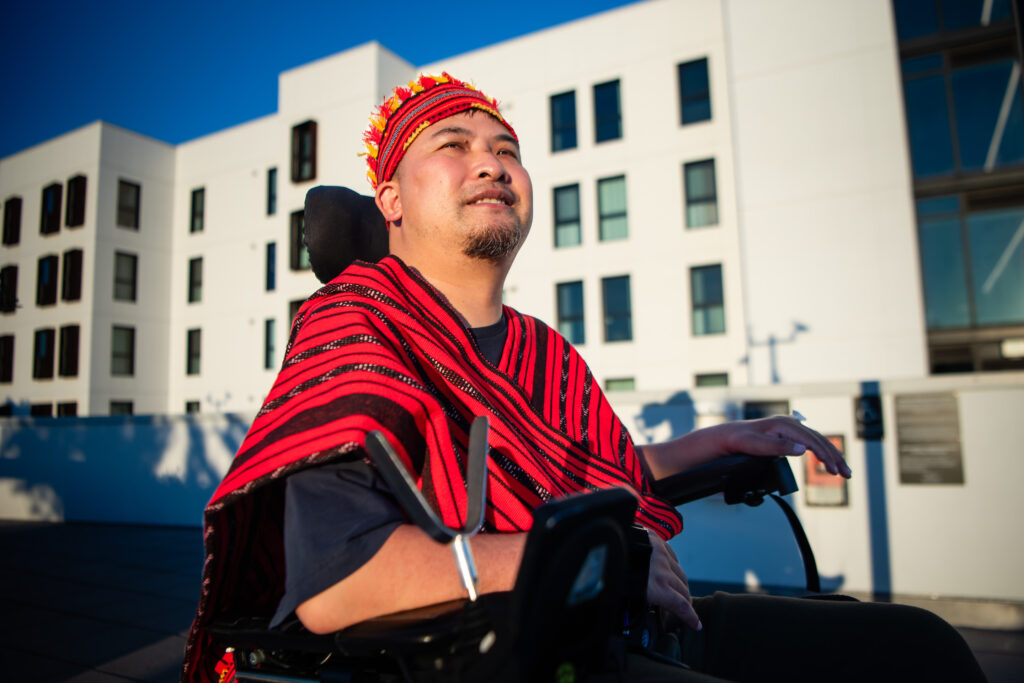 Brandon Lee knows all too well that when communities resist the kind of neoliberal policies that APEC and IPEF promote, they face escalating surveillance, harassment, violence, and repression. In 2019, Lee survived an assassination attempt by the Philippine military for his work with Indigenous peoples of the Philippines.
Lee, a Chinese American, was born and raised in the Sunset District of San Francisco where he got involved with the Chinese Progressive Association (CPA). Through CPA, he supported Monster Cable workers fighting for back wages after their jobs were offshored. "That's what neoliberalism does. This is what APEC does." says Lee. "They offshore work to other countries where they can better exploit workers. Union jobs in the U.S. get sent abroad where there's more political repression. That was my introduction to neoliberal politics."
Inspired to work in solidarity with those resisting neoliberalism on the frontlines, Lee moved to Ifugao in the Cordillera region of the Philippines in 2010. There, he worked as a paralegal and journalist alongside indigenous peoples fighting mining and damming in their territories. The country's Mining Act of 1995 awarded 100% of the profits from the plundering of natural resources to multinational corporations, devastating the land and displacing its traditional peoples.
"Communities didn't want the companies coming in if they wouldn't benefit from it. So the companies would dangle carrots of jobs, roads, scholarships in front of them. It pitted entire clans and families against each other," Lee says.
As the people rose up, the military came in to quell protest and dissent. They spread propaganda and disinformation about organizers and "red tagged" them on social media, painting them as part of communist or terrorist organizations. In the years preceding the attempt on his own life, two of Brandon's colleagues were murdered—William Bugatti in 2014 and Ricardo Mayummi in 2018. During his time in the Philippines, Lee was followed, photographed, detained, searched, and visited at home and at work by the Philippine military. He was even sent a package with a photo of burial fabric – a not-so-subtle death threat. Yet, he kept going.
Then, on August 6th, 2019, Lee was gunned down outside his home, presumably by the 54th Infantry Battalion security forces of the Philippine military that had previously followed and harassed him. His young daughter was one of the first to find him, laying in a pool of blood. Lee almost died from the eight cardiac arrests he experienced in the days and weeks that followed. After the last one, he told his wife that it hurt too bad and he didn't want to continue. During the three weeks he spent in the ICU, the police and army attempted to visit him, prompting fears that they had come to finish the job. As a result, his community kept round-the-clock vigil outside his hospital room and was joined by delegations from the U.S. After extensive fundraising, he was eventually medically evacuated back to San Francisco. The attack left him permanently paralyzed without the use of his legs or hands.
To date, there has been no accountability for the attempt on Lee's life. Despite its flagrant impunity for war crimes, the Philippines has received billions of dollars of U.S. military aid since 2015. "It horrifies me to think that the bullet fragments still lodged in my body have been funded through American tax dollars," says Lee.
For Lee, however, justice is not just about his own case. It's about stopping the land grabs, resource extraction, worker exploitation, and political repression that bodies like APEC and agreements like IPEF enable, and which imperil land and water defenders like him across Asia, the Pacific, and Latin America.
Edith Saldano, barista and member-leader
at Starbucks Workers United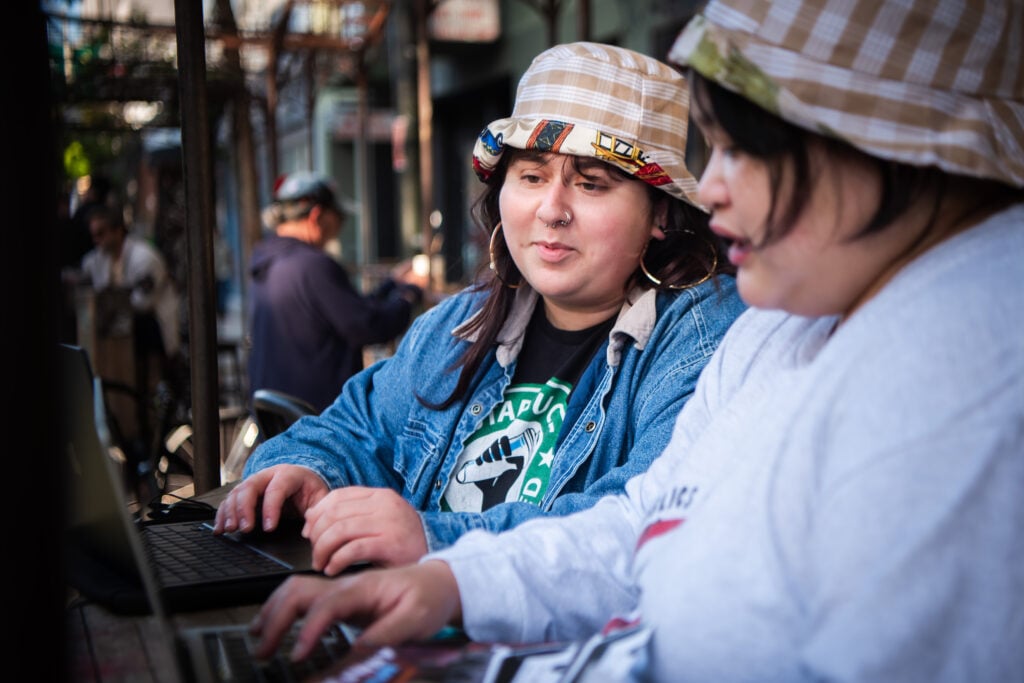 For Edith Saldano, APEC's calculated assault on workers' rights and union jobs is personal. "I've been working since I was 15. My parents immigrated in the late '80s and early '90s from Mexico. My mom wasn't a citizen so she had a hard time finding jobs. My dad worked in construction. He went through a lot to raise our family – working long hours, getting injured, the impact on his body – but all so that we could get union benefits," says Saldano. "The union is the reason I have health care and dental. That's one of the reasons I'm so involved in Starbucks Workers United and the NO to APEC coalition."
Saldano works as a barista at Starbucks in Capitola, CA. When Saldano and their co-workers faced sexual harassment in the workplace, they called the already-unionized Starbucks workers in Buffalo, NY for advice and started a campaign of their own. In June 2022, the Capitola workers won their own union election. Saldano is now a committed member leader with the rapidly growing Starbucks Workers United, which represents 9,000 workers across 360 stores worldwide.
Saldano first heard about APEC from their Chilean union counterparts with Sindicato Starbucks who had effectively shut down the trade talks when the summit came to Chile in 2019. Labor opposition to APEC has been more outspoken internationally than in the U.S., where the AFL-CIO's reticence to cross President Biden, Chairperson of this year's APEC, has likely tempered more vocal criticism. Even so, many in labor – including the San Francisco Labor Council, the International Longshore and Warehouse Union Northern California District Council, and the Oakland Education Association—have gone on record opposing APEC. Regardless, APEC's devastating impact on workers is clear to rank-and-file workers like Saldano.
"We've done a lot of research to understand the coffee supply chain. The decisions made at APEC will impact not only baristas but the peasant labor that Starbucks uses at its haciendas from the Philippines to Costa Rica. The farmers who produce the coffee will be more exploited through the decisions made at APEC," says Saldano. "There will be more land grabs and the increased militarization they'll face when they eventually fight back. But it will also hurt warehouse workers who deliver things overnight and the garment workers who make our t-shirts and aprons."
Saldano's friend and fellow organizer, Pyxie Castillo, is the chairperson of GABRIELA USA, an alliance of grassroots Filipino women's organizations in the U.S., and a chapter of the international GABRIELA.
"Around the time that we hosted union organizers from the Philippines on a speaking tour in the U.S., a labor organizer, Jude Thaddeus Fernandez of the Kilusan Mayo Uno [May First Movement] in the Philippines, was killed. These blatant attacks on labor are happening in real time," says Castillo. "People might not see it in our everyday life in the U.S. but for folks in the Philippines, Haiti, South Korea, India, you can't turn away. These are the areas whose heads of state are coming, so we have a responsibility to raise these issues."
Nik Evasco, youth climate organizer
and scholar on migration and refugees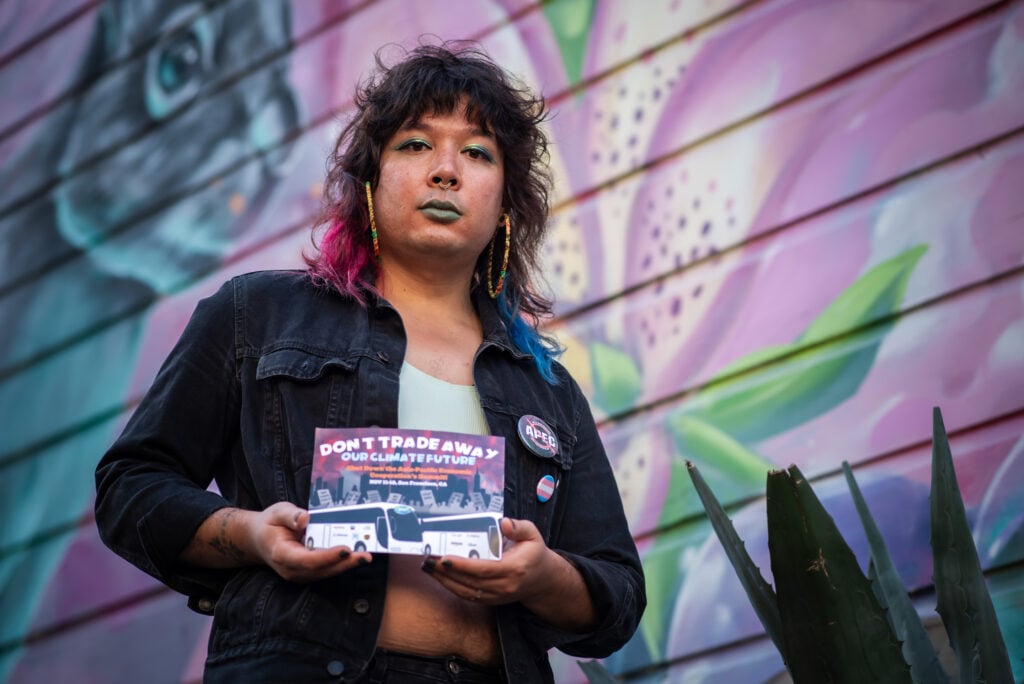 Nik Evasco is a queer and nonbinary Filipinx organizer for climate justice and a scholar on climate refugees who lives in San Francisco and has been organizing with the Climate Bloc of the NO to APEC Coalition.
"I bring an intersectional people's justice bent into what for decades has been an older, white, cis-dominated movement around carbon, or CO2 essentialism—the idea that as long as we reduce carbon emissions nothing else matters," says Evasco.
Evasco's own family history has been shaped by the impacts of the kind of neoliberal, "free trade" policies of previous generations.
"My family migrated to the U.S. in the 1960s and '70s. My grandparents had been farmers in the Philippines. But the crops they used to sustain themselves were not enough. They migrated internally to Manila to get jobs as teachers but everything, including the people, were being extracted from the Philippines and the internal structure just wasn't there," says Evasco. "So, like many folks in the Asian diaspora of APEC member countries like the Philippines, Guam, other U.S. imperial sites, the only jobs were in the U.S. military, so my grandpa enlisted and my family migrated to a military base in Virginia. They only went back once. The land they'd once had in the family has been lost."
The interlocking features of U.S. neoliberal policies in Asia that played out across generations in Evasco's family—crop failure, land grabs, job loss, forced displacement, migration, militarization—speak to the importance of the demands of the No to APEC Climate Bloc that the US and APEC end carbon pollution and globalize climate justice by reversing their disproportionate impact on communities of color in the U.S. and peoples of the Global South. That, however, isn't likely to happen behind APEC's closed doors.
"You don't have to be cynical or a political activist to be like, 'Wow, having Exxon, Bank of America, and Lockheed Martin together with a confluence of leaders like Biden, Modi, or Marcos Jr. who proudly repress people's movements and who ignore climate and environmental standards to prop up business interests and campaign donors is not the best forum to negotiate a framework for the next decades of trade,'" says Evasco. "There is a massive power imbalance when there will be negotiations on the future of our planet, and our lives, but no civil component in the room. There's no forum for teachers, caregivers, artists."
"Trade deals have historically helped Big Pharma expand their monopolies and jack up prices, helped Wall Street dismantle regulations, and helped Big Ag undermine food safety and consumer right-to-know regulations. Big Tech is trying to use trade rules to attack consumer privacy and AI accountability. On top of that, Big Oil, Coal and Gas have been granted special powers within trade agreements to attack the environmental movement's climate victories. " says Will Wiltschko of the California Trade Justice Coalition, which is part of the NO 2 APEC Coalition.
"The recently released IPEF pillar on supply chains, which of course would have a lot to do with climate change, doesn't even mention 'climate change,'" adds Wiltschko. "What they're doing here is greenwashing and it reeks of climate denialism. It's a photo op between heads of state and some of the worst actors when it comes to climate change and worker rights."
Because the most likely outcome of APEC's summit is a further entrenchment of human rights abuses, labor violations, and a fossil fuel economy that drives climate chaos, activists have pledged to disrupt the fundamentally undemocratic meeting of billionaires. They promise thousands of people in the streets and mass civil disobedience if necessary, much as labor, climate, and anti-globalization activists disrupted World Trade Organization (WTO) meetings more than two decades ago.
Activists are also raising alarm about the impact of the summit itself on San Francisco's most vulnerable residents. Despite promotional billboards throughout the city proclaiming "APEC will be epic!," many community organizations say it will stretch the city's budget, displace unhoused neighbors, create hardships for elderly and disabled residents isolated inside the "exclusion zone" around the meetings, and re-traumatize immigrant communities who've fled armed conflict by subjecting them to military checkpoints. To counter the worst impacts of the summit on the city's most marginalized, coalition members are building mutual aid networks to support their people.
"We understand that our struggles are interconnected. Life on this planet is interdependent," says Narissa Lee of the NO to APEC Coalition. "People in power are colluding about how to violently crush our movements for profit, but we have to build with each other, forge really deep relationships of solidarity if we are to have a fighting chance."
Featured image: Brandon Lee takes in the sunset from his home in the Mission neighborhood of San Francisco, CA, wearing The Bayyaong, a Tuwali indigenous attire in Ifugao. Photo by Brooke Anderson.