The photo story slide show is availaible
here
on the New York Times site.
ERPIGNAN, France — Walter Astrada doesn't view his four-chapter project, Violence Against Women, as a story about a serious problem for women. Though it is.
"It's not a woman's problem. It's a societal problem" said Mr. Astrada. "If 50 percent of a country can be beaten, raped, killed or tortured, then it's not a free country, it's not a democracy, no matter how developed it is."
Mr. Astrada started the project in 2006 in Guatemala, where over 600 women were murdered that year. He then documented sexual violence in war torn Congo, where hundreds of thousands of women and girls have been brutally raped. In India he focused on the low status of women and on female infanticide
This powerful view of the the global effects of violence on women is a result of Mr. Astrada's strong personal conviction and and stubborn perseverance. He spent much of the last five years researching, photographing and patching together the finances to complete this ambitious project. No editorial outlet would assign this type of long-term story. Mr. Astrada paid for his expenses out of his pocket at first in Guatemala, and then used prize money from a World Press Photo award he received for an image from there (slide 3). He received a Revela Oleiros grant in 2008 for the Congo chapter and in 2009 was awarded a grant from the Alexia Foundation for the India chapter after his fifth application.
This week at the Visa pour l'Image photojournalism festival here, Mr. Astrada received a Getty Grant of $20,000 that will allow him to complete his project. He will work in Norway "to show that even in a western democracy where women enjoy legal equality and financial parity they suffer from violence."
Other Getty Award winners were Alvarro Ybarra Zavala for 'Colombia, in the eternity of sorrow,' Stanley Greene for 'The E-waste Trail,' Liz Hingley for 'The Jones family,' and Joan Bardeletti for 'The KILL (the African Gays) BILL.' A total of over $150,000 in grants were awarded at the festival.
Financing stories was a common topic of discussion among photographers at the festival. In the last few years editorial assignments have dried up and there are many fewer jobs. In response, photographers have turned to foundation grants, crowd-sourcing platforms like Emphas.is and Kickstarter and NGO support. Some have embraced multimedia and developed new distribution methods. Other have left the business.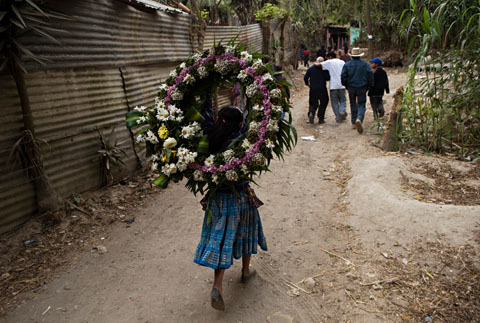 Walter Astrada
Andrei Polikanov, the director of photography at Russian Reporter magazine and a member of the jury which decided the Visa d'or awards, believes that the market is still in decline but that photographers are adjusting and will continue to produce serious stories.
" I lived through very hard times when I was in the army for six years in Angola and survived economic and social upheaval in Russia," he said. "There are only a few things that humans need to survive. You can't live without bread, water, conviction, love and inspiration. And for me photography."
The jury that Mr. Polikanov was part of gave the feature award, accompanied by an 8,000 euro prize, to Olivier Jobard on Friday evening. Mr. Jobard stood up to warm applause, and said he was particularly grateful for the award because he had lost his job with Sipa Press a few hours earlier. The new owners of Sipa Press, the German news agency dapd, laid off photographers in a reorganization typical of consolidations in what is left of the photojournalism industry.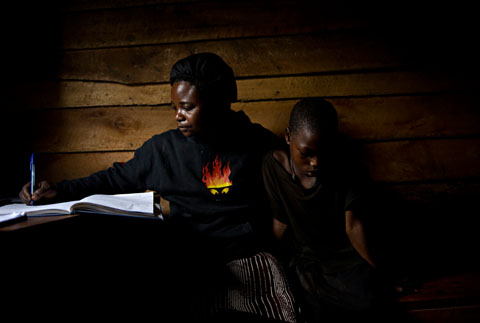 Walter Astrada
Other award winners in Perpignan were:
Yuri Kozyrev/Noor for Time Magazine – Visa d'or News "Libya"
Shiho Fukada/ The New York Times – Visa d'or Daily Press Award "Japan after the Hurricane"
lvy Njiokiktjien – Canon female Photojournalist Award
Ed Ou – City of Perpignan Young Reporter Award